Automotive Diagnostics Support & Resources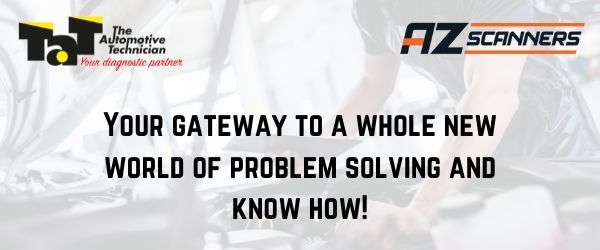 AZscanners has partnered with TaT - The Automotive Technician to offer its customers more ways to diagnose vehicles more efficiently and effectively. AZscanners customers can now take advantage of a special offer joining TaT platform for 18 months for the price of 12 months.
TaT is a unique platform that provides members with practical information and diagnostic solutions straight from the workshop floor. Information of the kind that you won't find in a call centre, manual or wiring diagram. TaT shares its information through its technical magazine, repair database, technical help service, Scan data database, diagnostic programs and training seminars.
To learn more visit https://www.tat.net.au
See Jeff Smit explaining how Scan/Scope data work using TaT platform.
TAT Member Benefits
TAT Magazine: Get Australasia's No.1 technical automotive magazine mailed to you six times per year plus search over 2000 pages of past editions online.
Repair Solutions: Get access to over 2500 diagnostic repair solutions searchable by vehicle, problem and fault code. Each fortnight we upload 20 new repair solutions.
Good Scan/Scope Data: Get access to over 17000 good scan tool and scope-data uploads to compare to the bad data you have retrieved from your vehicle.
Technical Assistance: Get technical assistance from the TaT Tech team and fellow members.
Diagnostic programs: Get access to 20 in-house designed diagnostic calculators and software programs.
Fault code database: Get access to an electronically logged database of over 8000 fault code definitions.
How To Qualify For The TaT Offer
AZscanners customers will receive an email after they make their purchase to access their offer on TaT platform. If you already made a purchase and did not receive your offer please contact our support team to send you a new one.